The Return Of Martin Guerre
Vote
(Total
0
Votes )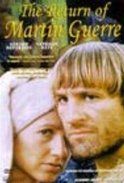 Movies:
The Return Of Martin Guerre
Director:
Daniel Vigne
Cast:
Gérard Depardieu, Nathalie Baye, Maurice Barrier
Production Co:
Dussault, France 3 (FR 3), Société Française de Production (SFP)
Genres:
Biography, Crime, Drama, History, Mystery, Romance
Runtime:
122 min
Country:
France
Release Date:
1982
During the middle of the 16th century, Martin Guerre returns to his village in southwestern France, after being away in the war for almost a decade. The villagers who knew him as a young man suspect he is not Martin, but he seems to know all about his friends, his family and his wife, even the most unusual things. Is this man really Martin Guerre?...